Camp T.L. James
One of the Louisiana Purchase Council's Scout Reservations is located in Union Parish, Louisiana and consists of approximately 1142 acres of land. It is owned and operated by the Louisiana Purchase Council, Inc., Boy Scouts of America of Monroe, Louisiana.
The Scout Reservation is divided into three different areas - Camp T. L. James, Cub World, and the training center. These areas share many facilities by design, but they are distinctively different in program use. The main camp was named after our first Council President, Mr. Thomas L. James.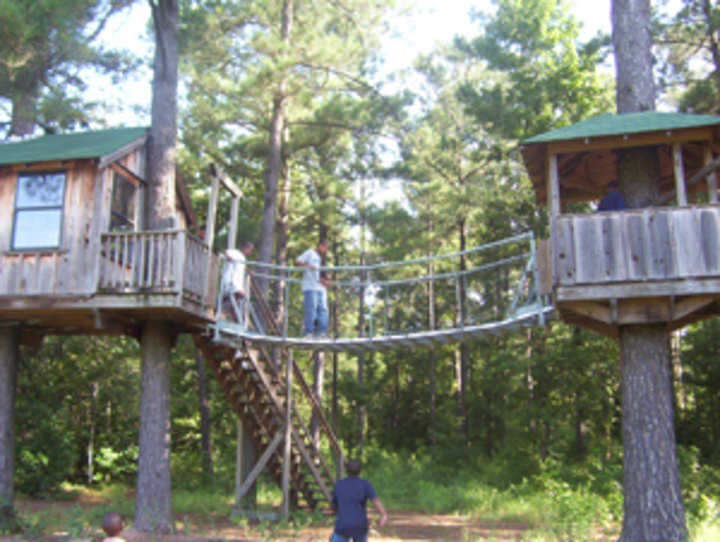 Facilities at Camp T.L. James include a central dining hall with a capacity of 200, individual campsites with latrines, one lake for boating & swimming, one lake for fishing, a trading post, quartermaster building, a central shower house, a high-ropes course, modern rifle, archery, & shotgun ranges, and an administrative center / small conference facility.
Facilities at Cub World include 5 connected tree cabins, one with solar power. The tree cabins can house up to 20 people total. Running water is available at Cub World and there are three shower/bathhouses to support outdoor camping. A new "Rain Forest" pavilion has recently been constructed to support Cub Scout program activities.
The Training Center is our newest camping area, and it offers 10 campsites with running water, picnic tables, tent platforms, 2 large hot-water shower houses with flush toilets and electricity, an indoor training room, and a large pavilion with tables and electric lights.
All of the areas of camp are available for use by the public, although there are fees for non-Scouting groups. E-mail Robin Richard at robin.richard@scouting.org to get reservation details..
This Louisiana Purchase Council Reservation is located in Downsville, LA off Hwy 15. It boasts of both broad leaf and pine woodlands. Wildlife abounds with populations of deer, squirrel, beaver, turkey, and many species of birds including hawks and owls.
Although facilities are modern and up-to-date, the natural beauty of the reservation has been maintained by careful planning on the part of the Council Camping Committee and of the Council Conservation Committee.