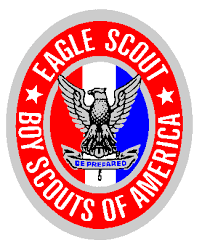 The Eagle Scout award is the highest honor a Scout can earn. This page has all the forms you need to fill out for your Eagle.
If a Scout has questions about information requested on the forms below, they can set up a time with their Scoutmaster to discuss their questions. Your Scoutmaster can answer any questions you might have about the Eagle process.
Eagle Packet Instructions Eagle Scout Parent Appraisal
Eagle Scout Packet Fillable Eagle Scout Parent Letter
Eagle Scout Application Eagle Scout Resume
Eagle Pastor Appraisal Eagle Scout School Appraisal
Eagle Scout Pastor Letter Eagle Scout Principal Letter
A 4X6 Photo of your Eagle Scout is required by the Council.
Pioneer District Eagle Project Approval
Mr. Tim Place or Mr. Chris Owens
Attakapas District Eagle Project Approval
Mr. Mike Hislop
Thunderbird District Eagle Project Approval
Mr. Cain Budds